There hasn't been any updates for Tearaway in a while, but you'll be happy to know that a new trailer for the game has been released. The new trailer gives you a look at Sogport, one of the stops you'll make as you go on your delivery adventure in the world of Tearaway.
Sogport is a mysterious island marooned in a deep sea of glue, and inhabited by some very fishy folk with a fearful obsession with the island's monstrous local wildlife. See for yourself:
The developers have also revealed a new character: atoi (pronounced like the French phrase a'toi – "ah-twa").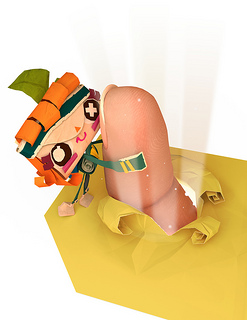 When you start your adventure, you'll be able to customise the game to your liking, choosing which messenger will accompany you on your journey – either iota or atoi – and also on the shape, size and colour of your god-like fingers.