The PS Vita's first full-scale fishing game, Let's Fish! Hooked On, will be coming to the console this Autumn according to Sean Walsh, Product Manager for Wired Productions. Wired recently signed a deal with the developer SIMS to bring the title to the West.
The game combines realistic fishing action with fast arcade-style gameplay and comes complete with a full story mode, which aims to make fishing fun for everyone. Choosing between four different characters, each with their own story line and unique skills, players are challenged to improve their skills and become World Champion by competing in a host of progressively more difficult tournaments on the World Tour.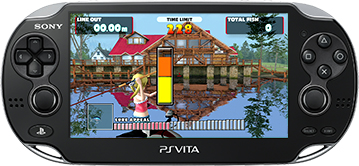 The game is split into four different game modes:
World Tour – with its character driven story line
Challenge – quick short-bursts of fishing action and online ranking
Training – to help develop your skills
Underwater Mode – which lets you view your prized catches, all of which are designed to make use of the PS Vita's impressive features.
For more hardcore fishing fans there's nine different kinds of fish to catch – including Bass, Trout and Salmon – and 240 lures to earn across 11 themed outdoor stages, but the game's arcade tendencies mean it's fast and fun to play and has more than enough to keep you entertained, whether you know your Rainbow Trout from your King Salmon or not.
The game is a PS Vita exclusive, and a exact release date will be revealed in coming weeks.