Lucid Games has announced a new PSN title, Jacob Jones and the Bigfoot Mystery, for the PS Vita. The game is an episodic adventure brimming with weird and wonderful characters and a host of brain teasing puzzles. The game was developed using the powerful Unreal Engine 3, and features puzzles written by some of the worlds leading puzzle authors, as well story from the BAFTA nominated George Poles.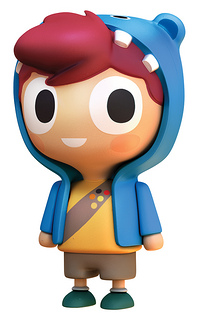 The press release reveals more:
So firstly, the polite thing to do would be to introduce you to our hero, although he's a slightly younger hero than you may be used to. Without further ado, meet Jacob Jones, the latest arrival at Camp Eagle Feather, the newest and best Summer Camp.

Now Jacob isn't one to mix with other kids – he prefers the great outdoors and the company of his parents, so spending his summer with a load of weird kids at Summer Camp isn't exactly his idea of fun. However, when he stumbles upon the mysterious Bigfoot, his summer takes on a whole new twist.
Look out for more from Jacob Jones and the Bigfoot Mystery in the coming weeks as more information about the background and main characters is revealed.