Get your first look at the Playstation Vita First Edition Bundle, which will be released a whole week ahead of the official launch date in North America. Those who have pre-ordered the First Edition Bundle will receive their very own PS Vita on February 15th.
The bundle will contain a 4GB PS Vita memory card, a limited-edition PS Vita case, a copy of Little Deviants on PS Vita game card, and a set of AR Play game cards to enable augmented reality play with a host of free downloadable mini games.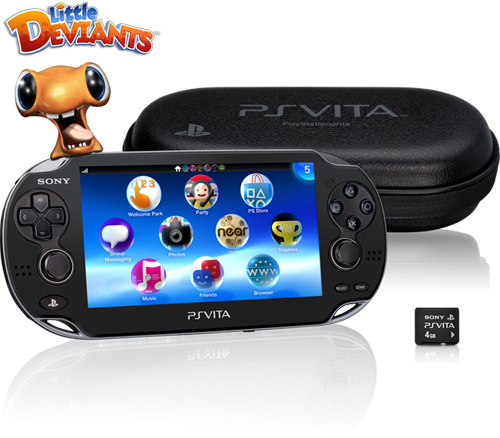 The PS Vita First Edition Bundle also includes an AT&T DataConnect Session Pass, which is good for one free 250MB data session (a $14.99 value) upon purchase of one 250 MB data session, as well as a free PlayStation Network game that you can redeem upon 3G activation on the AT&T mobile broadband network.
Unboxing Video:
[youtube http://www.youtube.com/watch?feature=player_embedded&v=YPQz0NyW0MU&w=600]